'I'm greedy in crisis' - Lee Chin exclusive - Upbeat billionaire says best deals abound during recession
Huntley Medley, Contributing Editor - Business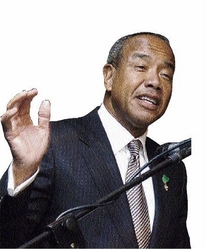 Billionaire investor Michael Lee Chin. - File
Billionaire Michael Lee Chin is looking around for businesses to buy, saying now is the best time to snatch up deals.
"I am the product of a rolling series of crises," declares the Jamaican who has made his home and fortune in Canada.
Lee Chin is positive that he and AIC Limited, his Canada-based mutual fund outfit that has propelled him to fame and fortune, will successfully ride the tide of the global recession and emerge stronger by the time business bounces back.
At the same time, Lee Chin, who says he is in acquisition mode, is not predicting any major challenges for his several Jamaican and Caribbean business businesses even as he is postponing some planned new development spending, looking for a big payday from global government-backed infrastructure bonds, and urging Jamaican investors to be sharp to excellent investment opportunities he says now abound.
The 57-year-old businessman, investment adviser and money manager is convinced that emotional behaviour and not rational thinking is what drives some investors to a doom and gloom outlook in times of a global economic downturn.
"You get the best deals in a recession when prices are depressed," he advises.
"In Jamaica institutional investors like pension funds should be fully invested in stocks, which are downgraded. The Caribbean is a wonderful place toinvest at this time. You can buy great businesses inexpensively."
The man who ranks 677th in Forbes Magazine list of billionaires with a net worth of US$1.8 billion, is an apologetic disciple of US investor and the world's richest man, Warren Buffett.
Summarising his own investment outlook, Lee Chin says he is a convert to Buffett's well known greed and caution quote: "I am greedy when others are fearful and fearful when others are greedy," he tells the Financial Gleaner.
Lee Chin also has a word of advice for persons he says who have been complaining that many of Jamaica's prime assets were sold off to foreigners in the aftermath of the financial sector meltdown of the 1990s. "We have an opportunity to buy back some of those assets now that they are cheap. We need to have confidence in our country," he strikes a pragmatic yet patriotic chord without expanding.
Lee Chin's optimism comes despite a major fall-off in funds under management by AIC, whose business is investing people's money for the highest possible yields.
Unassailable position
From a seemingly unassailable position of nesting some C$14 billion in funds under management (FUMs) at its peak in around 2001, AIC now manages only C$3.3 billion.
In an interview with the Financial Gleaner, the businessman concedes, like his international investments point man, Robert Almeida has, that many investors pulled their funds in the 1980s and 1990s when AIC refused to follow other mutual funds which were chasing popular technology and commodities stocks.
AIC's position was that equities were experiencing a short term bubble that would soon dissipate, leaving investors empty handed.
The exodus of investors helped to drive the precipitous fall in AIC FUMs by more than C$10 billion in eight years.
The dotcom and commodities bubbles did not take long to burst, and to make matters worse for those who failed to get out before tech stocks and commodities bottomed out, now there is a recession with tentacles spread around the globe.
AIC redemptions, the executive chairman says, are now down to a trickle and the international economic downturn, if anything, is stimulating the shrewdness and investment savvy of the businessman, who never loses sight of the prize.
Combing the globe
One understands then why Michael Lee Chin is combing the globe, and more so his Caribbean backyard, hunting for opportunities.
Trinidad is now the life of the party, where the cash woes of the CL Financial Group have thrown up what Lee Chin describes as "fantastic opportunities."
Armed with an available US$150 in his Caribbean equity fund and the backing of heavyweight partners like the US government's Overseas Private Investment Corporation (OPIC), the European Investment Bank, the Export Development Corporation of Canada, the Caribbean Development Bank and US telecoms giant, Verizon, Lee Chin is upbeat about the prospects there, succumbing to an uncharacteristic moment of understatement: "We are looking to see how best we can participate there."
Lee Chin outlines the philosophy, which remains at the core of his strategic business outlook: "Wealth is created by doing five things: opening a few high quality businesses; making sure you really understand the businesses you invest in; investing in strong, long term growth industries; keeping a keen eye on rate of return, especially when you are using people's money; and holding for the long term."
In the long run, a good reputation is worth more than fleeting gains, the prolific international investor says.
"Every business has to do three things well," he admonishes, "build the best possible reputation, differentiate itself in the marketplace, and really do a good job addressing customers' needs."
Investment ideology
With this guiding investment ideology and a track record of profitable Caribbean acquisitions, Lee Chin is of the view that his and AIC's reputation will hold them in good stead for the climb back to the top of the pile as being among the most profitable and asset-rich global funds managers. "How do you create the best possible reputation? State clearly what you stand for, be transparent, be consistent, and walk the talk."
It is this steadfastness to his investment framework through thick and thin, more than anything else, which the Portland-born Michael Lee credits for his success to date.
He adds he would have thought them mad, if, in 1977 aged 26, when he left Jamaica for Canada, persons had told him he would rise to amass his personal fortune or built a global investment empire, including significant holding in the Caribbean.
Lee Chin waxes sentimental when he recalls how in 1983 the first of his "rolling series of crises" arose. With stocks nose-diving up to 50 per cent, he borrowed half a million Canadian dollars to buy into the small money management company, MacKenzie's Financial Corporation at a dollar per stock.
Four years later, when the market had recovered, he sold his stocks for c$7 each and was able to repay his C$500,000 loan, and pocket several million dollars.
Again in 1999, he faced a major challenge when Canada's leading newspaper, The Globe and Mail, ran a story pointing to the mass exodus of investors fleeing his Advantage fund to line up for other funds, which were promoting the dotcoms.
The story predicted that Lee Chin's business would fold from a drying up of funds. His response was to invest C$100 million (including c$50 million of his own money) into one stock, Mackenzie's - which he had invested in 16 years earlier - at a share price of C$15.
When the stock price doubled a year later, he sold out to the Investors Group, the first company he worked for in Canada in 1977 and reaped a cool C$200 million from which he was able to pick up Jamaica's National Commercial Bank (NCB) off the FINSAC auction block with a C$80 million downpayment.
Basket of investments
Among the US$1.2 billion Caribbean holdings in his basket of investments, Lee Chin speaks most feelingly about NCB, in which his private investment company, Portland Holdings, bought a 75 per cent stake from the Jamaican government in March 2002 for J$6 billion - which converted to less than US$130 million at the time.
NCB is now worth more than US$800 million and reported J$8.7 billion in net profits for 2008.
Columbus Communications, which trades as Flow, is another of his success stories. Having bought it in 2004 for US$80 million, the consortium of the telecoms firms that spent US$450 in the 1990s to run a fibre optic cable from Florida to link 22 countries in the Caribbean and Central America, Lee Chin now values this investment at close to US$1 billion.
Advantage General Insurance Company, the former United General, which he bought from Neville Blythe at the same time he took over the CVM Communications Group, is billed by its chairman, as "the most efficient insurance company in the Caribbean."
Lee Chin says from a position losing US$5 million annually when he took it over, Advantage posted US$8 million in profits last year.
Having in the past alluded to real estate development investment plans in Jamaica and elsewhere in the Caribbean, to spur health tourism and capitalise on an expected flood of wealthy elderly foreigners craving sunshine and good retirement care, Michael Lee Chin now says those plans are on hold. "It is difficult to start new ventures.
The opportunities that exist now are in the area of buying existing businesses, so those are now medium term plans."
However, he is forging ahead to catch and ride another wave of profits expected to flow from the recession.
This is in the area of investment in infrastructure. So, he is teaming up with Brookfield Assets Management, the Toronto, Canada-based global funds manager, which specialises in infrastructure, property and power assets, and has US$95 billion in funds under management.
Lee Chin points out that with a big chunk of the recently approved US$787 billion American stimulus package being devoted to infrastructure spending, and other countries - developed and developing - also spending big on infrastructure as a recession busting move to kick-start their ailing economies, significant profits will flow to investors who bankroll these initiatives.
An inventory of planned insfrastructure spends worldwide shows some US$180 billion in the US; a planned US$8 billion worth of additional lending for energy, climate change and infrastructure by the the European Investment Bank; €17 billion in Germany; €4 billion by the French government; Britain's £3 billion for capital spending on transportation, schools, social housing, and energy efficiency initiatives; as well as significant sums committed in Spain, Italy, Sweden, Switzerland, China, some 15 other Asia-Pacific countries, and elsewhere including the the Middle East and Latin America.
Other partnerships are being forged too, Lee Chin says, with a keen eye on entities whose corporate philosophy is in keeping with AIC's.
Third Avenue, the New York-based investment advisory team, another top ranked money management outfit, has been subcontracted to handle some of the AIC business.
Lee Chin continues to firmly cut a survival and developmental path for his companies, pointing out that despite having surrendered the reigns of day-to-day management of his mutual fund business, he has never given up responsibility for strategic direction.
huntley.medley@gleanerjm.com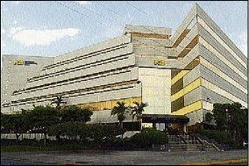 Corporate headquarters of National Commercial Bank. The bank is one of Michael Lee Chin's most prized assets.