Howard Campbell, Gleaner Writer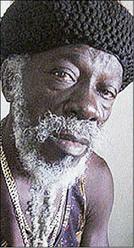 Vincent 'Tata' Ford. - Photo courtesy of the BBC
MUSIC BUFFS have long agreed that Bob Marley's No Woman No Cry is one of pop music's enduring songs. Its simple tone and message put it right up there with The Beatles' Hey Jude and Dylan's Like a Rolling Stone.
But many historians have also been in the dark as to who Vincent Ford, the song's co-author, was.
Ford, known to friends and family as 'Tata', died on December 28 at age 68 at the Andrews Memorial Hospital in St Andrew. His death made international headlines, giving him the spotlight he shunned in life.
His daughter, Angela Ford, told The Gleaner that her father succumbed to complications from diabetes and hypertension. He had lost both legs, she said, to a smoking-related illness.
Thanksgiving service
Ford's body will be taken to the Bob Marley Culture Yard in Trench Town on January 10 for viewing. A thanksgiving service for his life takes place three days later at the Webster Memorial Church.
"Some of his relatives are saying we took so long (with the funeral), but even though he's my father, he wasn't mine alone, he belonged to Trench Town," Angela Ford said.
The Trench Town tenement where Marley and Ford lived in the 1960s was the inspiration for No Woman No Cry, a sombre song from Natty Dread, Marley's 1974 breakthrough album. The song was also included on Marley and the Wailers' Live! set at London's Lyceum Theatre in 1975.
There have been doubts about Ford's role in the song. It has been said that Marley gave him songwriting credit for him to earn royalties; others say it was a ploy by the singer to get out of a publishing deal with American impressario Danny Sims.
The mystery surrounding the song's origins have little bearing on its value. No Woman No Cry has been covered by Joan Baez, Hugh Masekela, Wyclef, Boney M and Blues Traveler.
Greatest Songs of All Time
It is ranked number 37 by Rolling Stone magazine on its list of 500 Greatest Songs of All Time.
Ford also gets songwriting credit for three songs on Rastaman Vibration, Marley's 1976 album. They are Positive Vibration, Roots Rock Reggae and Crazy Baldhead.
Marley died from cancer in May 1981, but Angela Ford says her father never forgot the man who was like a brother to him.
"Bob run through him blood. Everything for him was Bob," she said.
Angela Ford says her father was born at Spanish Town Road, the eldest of six children. He moved to Trench Town in the late 1950s and met Marley shortly after the aspiring singer moved there from St Ann.
They captured the challenges of ghetto life perfectly in No Woman No Cry. The song was recorded just after Peter Tosh and Bunny Wailer left The Wailers for solo careers. It came at a time when Marley was on the verge of making it big.
Ford lived in Trench Town with his daughter and her husband until his death. He was a regular at the Bob Marley Museum at Hope Road and the Culture Yard — the renovated site of the 'big yaad' he and Marley once called home.
Vincent Ford is also survived by four grandchildren and four great-grandchildren.


'The Trench Town tenement where Marley and Ford lived in the 1960s was the inspiration for No Woman No Cry, a sombre song from Natty Dread, Marley's 1974 breakthrough album.'

Men behind the music
Natty Dread was the first album by Marley and The Wailers featuring the I Three.
The Live! version of No Woman No Cry is considered the finest version of the song.
Brothers, Aston and Carlton Barrett, Rita Marley and Alan 'Skill' Cole, are also credited as songwriters on Natty Dread.
Crazy Baldhead was covered in 1995 by Luciano and Beenie Man.
Marley wrote most of the songs after the Rastaman Vibration album. On 1979's Survival album, he co-wrote Wake Up and Live with Anthony 'Sangie' Davis.
Sangie Davis would later write Girlie Girlie, a massive hit for singer Sophia George.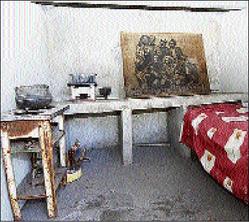 One of the renovated rooms at the Trench Town Culture Yard where Vincent Ford and Bob Marley once lived. - Ian Allen/Staff Photographer