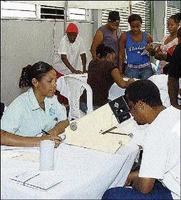 A participant in Saturday's health fair, organised by the Rotaract Club of Kingston, receives a vision test during the event held at the Jamaican-German Automotive School in Kingston. - Junior Dowie/Staff Photographer
Residents from Maxfield Avenue and its environs were on Saturday treated to a health fair organised by the Rotaract Club of Kingston, in association with the CHASE Fund and the Ministry of Health.
Khary Sharpe, public relations director for the club, told The Gleaner that HIV/AIDS was the focus for the health fair, which is in its fourth year. He, however, noted that with data from the health ministry revealing that a significant number of people suffer from lifestyle diseases, such as diabetes and hypertension, a decision was taken to broaden the focus.
Shying away from hiv test
The residents who turned out for the health fair at the Jamaican-German Automotive School in Kingston, received cholesterol and blood-sugar checks, as well as eye and cancer screening and HIV testing, among other things.
While the booths for cholesterol and diabetes were packed with people, many shied away from the booth where HIV testing was taking place.
Arlene Taite, a resident who attended the health fair, lauded the Rotaract Club for its efforts.
"This is a good thing. It not only saves money, but it encourages people to get tested for different things," said Taite.
Enough funds raised
She got tested for HIV and did a Pap smear. Ironically, Taite, who works in a medical centre, said she had been wanting to do a Pap smear for some time, but just did not get a chance to do so because of her busy schedule.
The Rotaract Club raised close to $500,000 in cash and resources to provide direct health-care services to the residents.
Participants also had one-on-one consultation with doctors and health-service consultants.