Lead Stories
Gay, but not happy: J-FLAG disappointed with PM's unfulfilled promise, though she remains best hope

Even as gays frown on Prime Minister Portia Simspon Miller's dawdling in the fulfilment of her promise to review the buggery law, they remain convinced that Jamaica's first female head is still their best hope of legislating the much-needed change for the lesbian...

News
A bold approach to unlocking investment for jobs, growth

A frequent observation by many is that things take a very long time to happen in Jamaica, whether it be getting a governmental approval, passing a law, reforming a particular system or even doing a business acquisition ...

Business
Canadian company to develop solar plant in Suriname

Canadian gold miner, IAMGOLD, says it will develop and operate a solar plant in Suriname at a cost of US$14 million."The project will help meet the electricity requirements of the mine in district Brokopondo, and at the same time free up power for use...

Sports
JC take command - Manning Cup champions thump STETHS 3-0 in Olivier Shield first leg

WESTERN BUREAU: Manning Cup champions Jamaica College placed one hand on the Olivier Shield - the symbol of all-island schoolboy football supremacy - with an intelligent display to defeat previously unbeaten St Elizabeth Technical High School...

Commentary
EDITORIAL - Azan's voice and Esau's hand?
Whatever may be the public's current perception of him, Richard Azan can now hardly escape the characterisation, rightly or otherwise, of loyal political fodder.Alternatively, he may be seen as one who pays for his political gifts: in this case...
Letters
LETTER OF THE DAY - Diversifying the economy through medical marijuana
THE EDITOR, Sir:Over the last few months, the debate as to whether marijuana should be decriminalised for medicinal purposes has gained traction.
Entertainment
Culture card pilot programme begins - 100 students to have their outlook reshaped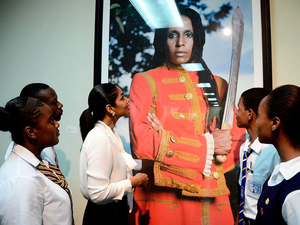 The Ministry of Youth and Culture yesterday launched the pilot phase of the culture card programme at the National Gallery in Kingston.The launch of the culture card initiative, which is in keeping with announcements made by the Lisa Hanna in her...

Food
Getting the Suga buzz

In our Jamaican context, ham, chicken, rice and peas seems to be the perfect dinner at this time of the year right? However, let's say that those dishes were all cakes? A novelty idea that would make an interesting story. And a very delicious one at that...

Social
Something extra

Jamaicans the world over breathed a collective sigh of relief as songbird Tessanne Chin moved on to the semi-finals of 'The Voice'...

International
Journalists, activists protest new 'stifling' media law

NAIROBI (AP): About 300 journalists and civil-rights activists marched to parliament and the president's office on Tuesday in Kenya's capital to protest...