Lead Stories
BOJ power lost - Finance minister stripped of ability to pick governor, monitor banks

The finance minister is to be stripped of the responsibility of appointing the governor of the Bank of Jamaica (BOJ) and will also lose the power of having direct responsibility for the monitoring of banks and other...

News
How will growth occur? Strategies for a better economy

ACCORDING TO the United Nations, World Economic Situation and Prospect (WESP) 2014, global economic growth is expected to be better this year than last year.Global gross domestic product is expected to grow anywhere...

Business
JMD undergoing yearly check-up for bloatedness - IMF assessing whether Jamaican currency still overvalued

The International Monetary Fund (IMF) is doing another assessment of the Jamaican dollar to determine whether it is still overvalued and the degree to which it should be adjusted to boost competitiveness....

Sports
CAS cites 'blatant flaws'

LONDON (AP):Jamaican sprinter Veronica Campbell-Brown was cleared of doping because of blatant flaws in the test-collection procedures and possible "environmental contamination" of her urine sample, sport's highest appeals body said yesterday.

Commentary
EDITORIAL - No turning back
The past year of International Monetary Fund (IMF)-inspired economic austerity has been tough for Jamaicans.
Letters
LETTER OF THE DAY - Don't blame the Chinese
THE EDITOR, Sir:THERE HAS been a lot of talk recently about the Chinese coming to take over Jamaica.
Entertainment
Mervyn Morris first poet laureate in 61 years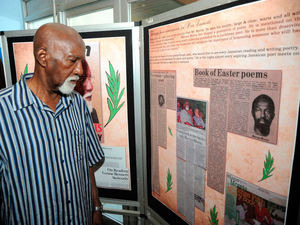 After more than 61 years, a new poet laureate of Jamaica has been announced.Yesterday, Professor Mervyn Morris was announced as the new poet laureate of Jamaica in a ceremony at the National Library of Jamaica in Kingston.

Health
How nutritious is bun & cheese?

What a pleasure it is to get bun from a co-worker, a friend or a family member at Easter time.Easter buns come in different shapes and sizes - round, small, long, and fruited.

Social
Something extra

The Socaphiles converged on the waterfront at the Victoria Pier on Saturday evening for Sunnation's Cooler Fête, and what an experience it was as Olly Mo, PP, and Bellamy left patrons wanting more...

International
Court rules against DPP in favour of Panday

PORT OF SPAIN (CMC):A High Court judge says he does not believe former prime minister Basdeo Panday should be made to face a third trial for failing to declare the assets of a London-based bank account to the Integrity Commission...